Welcome to our neighborhood!   Thank you for using our website.  We strive to keep you informed of upcoming events and important news!  We are always looking for interested residents to join our Association Board, contact us if you would like more information.
Friendly Hills is an ideal community – diverse, prosperous, safe, and friendly. Graced with an historic pride and a hopeful and vibrant resolve for the future, The Friendly Hills Property Owners Association is proud to unite and represent the residents within our area.
We strive to turn neighbors into friends, work cooperatively with one another for the good of our community, and sustain a unique and impressive environment that embodies the pride and distinction of Friendly Hills.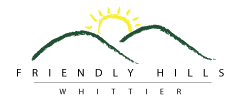 FRIENDLY HILLS PROPERTY OWNERS ASSOCIATION
Post Office Box 1018,
Whittier, California 90609
Email: info@friendlyhillspoa.com